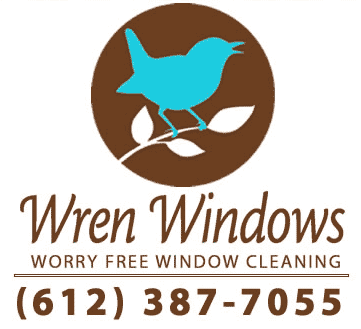 Window Cleaning
Gutter Cleaning
Pressure Washing
& More!
Worry-Free Window Cleaning in Minneapolis, MN
By Wren Windows!
(612) 387-7055
Experienced, Professional Window Cleaning, Gutter Cleaning, and Pressure Washing in Minneapolis and surrounding Metro Area.
---
Wren Windows is a family owned, established window cleaning company located in the Twin Cities. Since 2003 we have provided top-notch professional window cleaning, pressure washing and gutter cleaning services to Minneapolis, Minnesota. We aim to please!
Our technicians are rigorously trained, uniformed and courteous. We are fully insured and licensed by the State of Minnesota, and carry Workers Compensation coverage.
Wren Windows expertly handles all types of exterior cleaning services, including residential, commercial and storefront window cleaning, screen cleaning, chandelier and light fixture cleaning, pressure washing and gutter cleaning. We are your one stop shop!
---
There is nothing quite like the feeling of looking out your windows and seeing such a clear view that it's like the glass was removed.  All of the sun and warmth of a beautiful Minnesota day comes right into your kitchen, family room, or office.  We are Residential Window Cleaning specialists servicing Twin Cities clients for more than a decade.
Are your windows difficult to open? Older? or do you have those complicated storm windows?  Wren Windows is the company that the Minnesota Historic Society uses to bring a sparkle to their grand mansions and properties.  We'd be happy to bring that expertise to your classic home.
Are your gutters full? No Problem!  Over the years we've developed safe, thorough methods to reach your gutter troughs and downspouts to clear them of debris and clogs.
Ask about our standard late Autumn cleaning schedule.  Get all the debris out before the first winter freeze and reduce our winter ice dam dangers.
Does your sidewalk look dingy?  Is your patio dark and splotchy? Has the dirt on your siding made your house an uglier color?  Do you hate looking at your eaves because of the cobwebs and wasp nests?  Don't Worry!  We can help.
We can clean all those things for you and give your property a makeover to match those freshly cleaned windows.
With our equipment, we control the spray and pressure to apply just the right amount on your surfaces to clean without damage.  The select chemicals we use are completely safe for your delicate plants and there's no worry about the safety of your precious pets.