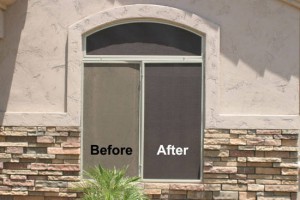 Wren Windows technicians are trained to wipe the dust from screens or take them outside and spray them off with a garden hose, depending on temperature conditions and the dirtiness of your screens.  This service is included in all basic window cleaning estimates.
But sometimes that's just not enough. And because of that we offer a couple different options.
Premium Screen Cleaning Package:
We'll take each screen separately and give it a detergent scrub on both sides with a soft-bristle brush, and scrub the edges.  Only $3 additional per screen. We can do them all or you can pick the ones that are most important to you.
Our Optimal Screen Restoration Package:
For some stains and fading on your cloth or vinyl screens, we can rejuvenate them with a special formula.  We can test it out, and show you the results on a small portion of the screen.  You like it we can do a complete restoration – that includes a scrub and our screen magic.  Only $5 additional per screen.